Talk:BW040
From Bulbapedia, the community-driven Pokémon encyclopedia.
erm...Gurdurr has never been in the anime before, it's also a debut pokemon...Chomi 15:03, 6 July 2011 (UTC)
Pawniard
About the whole "might possibly debut in prior episode" does anyone think Pawniard also applies to that rule? I wouldn't be surprised if they did a clip show in BW039 of the different characters battling and we got a glimpse of Langley using Pawniard. It feels unfair to enforce it only with Sawk and Gurdurr. ★Jo the Marten★ ಠ_ಠ♥ 18:31, 6 July 2011 (UTC)
Darmanitan...
...belongs to Sekimoto.--電禅Den Zen 14:15, 14 July 2011 (UTC)
Rock Slide
I don't understand Japanese so I'll let those do answer this. The page says that Dwebble learns Rock Slide, but Cilan just commanded it in the English version. Did they specially say it learned it in the Japanese version? It looks like everyone just knew about it already. --HoennMaster 20:57, 9 November 2011 (UTC)
Question for the Brits
I've just watched this episode on virginmedia's On demand and the episode ended just as Trip left, I'm not sure if the episode was like this on sunday, the day it was saved from; CITV, or wheather or not that was the first airing of the episode in england, though I suggest we look into it and watch out for subsequent airings Diamond Lanturn CodeName: 05308 00:33, 13 December 2011 (UTC)
Lance?
I was watching the episode, and in the part after Pawniard tears leaf storm apart and Cilan comments on it, behind Cilan and Iris, there is a background character that looks like Lance. Do you think that this was intentional, a cameo, reference, or just a coincidence? Here's a screenshot from serebii for reference.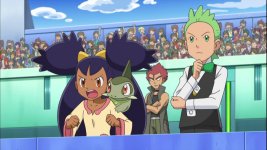 - unsigned comment from Violadude64 (talk • contribs)