A notice if you have enabled 2-factor-authentication (2FA) on your account!
If you set up 2FA on your account, we would like to ask you to please log out and attempt to log back in.
If you do not receive a prompt for your 2FA code, please send an email to technical[at]bulbagarden[dot]net containing your username and the approximate time/date you enabled it.

This will help us identify the root of the issues with the 2FA system. Thank you in advance for your help!
User:Bluepika!!!
From Bulbapedia, the community-driven Pokémon encyclopedia.
Jump to navigation
Jump to search
                                                ♪ Hy! I'm Bluepika!!! ♫

                      Oh great i got Pokemon platinum and lost it the next day..

←

This user used to have one of these, till the user met one of these.

→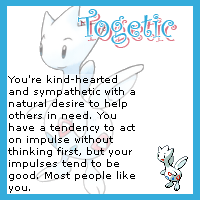 If u want 2 be my friend or enemy then tell me about it on my talk page!
Here is a list of my friends and enemies:
 friends:                                   enemies:                                
tavisource                              none yet! thank goodness!

   Here are something's about me plz don't complain!!!!                      

I also play Pokemon orange and pokemon prisim but i cant find the dang thing...
Games that i play:
Stuff about me that involves me being a trainer!Enjoy!:
Last but defiantly not least Some kinda"personal" stuff:
| | |
| --- | --- |
| | This user likes to sleep. |
This user's favorite anime is

Naruto

.
This user's favorite color is

blue

.
| | |
| --- | --- |
| | This user is not afraid of ghosts. |
This user's favorite anime is

Pokémon

.
                                   Here are some good picks of ash!!!And how much i support gs ds!


I support
GS

DS

!