Bulbapedia is open again at last! Note that features involving email such as confirming your email address are currently unavailable.
We apologize for the long maintenance period, and we thank you for your patience while we performed some much needed background work!
Talk:Pokémon Pocket Monsters
From Bulbapedia, the community-driven Pokémon encyclopedia.
Jump to navigation
Jump to search
Nude?
The controversy section makes little sense, on Clefairy's part. It appeared nude? It's always nude. Lovely Rose 02:37, 27 September 2009 (UTC)
Title
In wake of the Pokémon Adventures/Magical Pokémon Journey moves, should this be moved to "Pokémon Pocket Monsters" (the Chuang Yi title)? (and, likewise, Pocket Monsters RS/Pokémon Ruby-Sapphire. As far as I know PMDP hasn't been translated yet so that stays put no matter what.) ZestyCactus 00:13, 11 November 2009 (UTC)
Only Manga characters to appear in the anime?
There are two Manga based on the Anime, with Ash and everyone appearing in them. So....--Benayla (talk) 12:23, 3 February 2016 (UTC)
Sword Shield Arc
Hello, I don't know if this is the best place for this, but according to information on some pages of own Bulbapedia, this manga series ended the Sun and Moon phase. However, in my internet research, I found material from this universe, with the characters of Sword Shield. My question is that it conflicts with the manga based on the anime. How to proceed? I put the apparitions by what name? Should I use any different nomenclature? Here I leave a proof of what I am talking about. I would like an answer because as I am trying to fix the manga sections, I would like to add this information to the corresponding pages. Is this manga still in circulation in Japan?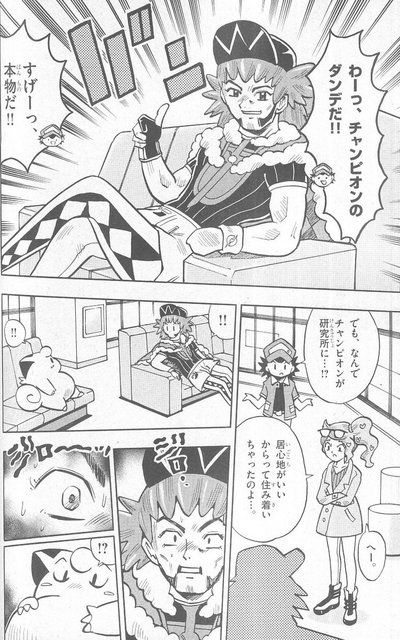 Hikaru Wazana (talk) 23:24, 14 June 2020 (UTC)
Where did you read that this manga ended with the Sun and Moon arc? I just checked the Sun and Moon page and it quite clearly states the series is still running. Secondly, the manga based on the anime is simply known as "Pocket Monsters". This would be titled "Pocket Monsters Sword Shield", as we do with the other arcs. There's no conflict here. Ataro (talk) 01:44, 15 June 2020 (UTC)

Well, I got it wrong after seeing Sun and Moon's pageSo, can I create any section under the name Pocket Monsters: Sword Shield?Hikaru Wazana (talk) 02:24, 15 June 2020 (UTC)