The annual Bulbagarden Christmas contests have begun! Head over to the Bulbagarden forums to check them out.
As a reminder, please do not copy information from other sites when editing. Also, head over to our partner Zelda Wiki to help out with the release of A Link Between Worlds!
User:Bluepika!!!
From Bulbapedia, the community-driven Pokémon encyclopedia.
                                                ♪ Hy! I'm Bluepika!!! ♫

                      Oh great i got Pokemon platinum and lost it the next day..

←

This user used to have one of these, till the user met one of these.

→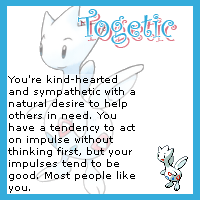 If u want 2 be my friend or enemy then tell me about it on my talk page!
Here is a list of my friends and enemies:
 friends:                                   enemies:                                
tavisource                              none yet! thank goodness!

   Here are something's about me plz don't complain!!!!                      

I also play Pokemon orange and pokemon prisim but i cant find the dang thing...
Games that i play:
Stuff about me that involves me being a trainer!Enjoy!:
Last but defiantly not least Some kinda"personal" stuff:
| | |
| --- | --- |
| | This user likes to sleep. |
This user's favorite anime is

Naruto

.
This user's favorite color is

blue

.
| | |
| --- | --- |
| | This user is not afraid of ghosts. |
This user's favorite anime is

Pokémon

.
                                   Here are some good picks of ash!!!And how much i support gs ds!


I support
GS

DS

!