Talk:Scyther (Pokémon)
From Bulbapedia, the community-driven Pokémon encyclopedia.
Pearl counterpart?
It states that scyther is a diamond only pokemon, but what is it's 'pearl counterpart'? GoldHusky2009 11:55, 21 September 2009 (UTC)
Pinsir. Turtwig A Contributions Talk 11:58, 21 September 2009 (UTC)
looks like its wearing a Jacket
Should there be some mention in the Physiology section about how it looks like it has a open jacket on?
other pictures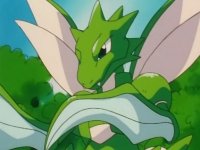 The pictures on the article do little to show it, except tracy's Scyher. Here i provided some anime and non anime depictions of Scyther. You can clearly see a collar like a jacket has, and at different angles it appears like its chest has a green jacket wrapped around it.
So should this be mentioned, discussed or what? I won't put this in the article unless it seems like a viable addition. Yami 19:46, 11 November 2009 (UTC)