The annual Bulbagarden Christmas contests have begun! Head over to the Bulbagarden forums to check them out.
As a reminder, please do not copy information from other sites when editing. Also, head over to our partner Zelda Wiki to help out with the release of A Link Between Worlds!
User:Dakclaw
From Bulbapedia, the community-driven Pokémon encyclopedia.
Personal Info Games
Battle Info
Hobbies

Woot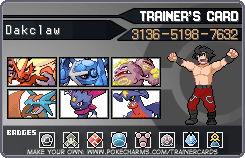 my Precious Blaziken. raised since level one
my friend just gave me a Jirachi for Draco plate. WOOT!
Currently i am trading in most Pokemon. Just give me a day to breed them!
I is a Blaziken Addict
woho i just hit my 13th Pokérus!
Stuff bout me
This user

rejects

your pathetic attempts of classification.
Dakclaw