The annual Bulbagarden Christmas contests have begun! Head over to the Bulbagarden forums to check them out.
As a reminder, please do not copy information from other sites when editing. Also, head over to our partner Zelda Wiki to help out with the release of A Link Between Worlds!
Talk:Altru Park
From Bulbapedia, the community-driven Pokémon encyclopedia.
I don't know if this helps or not, but Serebii has a better picture.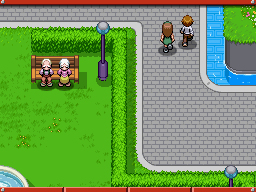 I think this should be used instead. Any comments? Dolphins are awesome (and Vulpix are too) 20:26, 2 November 2009 (UTC)
Serebii doesn't like us taking his stuff so I don't think we should use it. Sorry :P ZestyCactus 20:29, 2 November 2009 (UTC)

our picture, while small, shows the whole park this shows, what, 1/4 of it? i like ours better. --

MAG

NE

DETH

20:33, 2 November 2009 (UTC)

I know, but Serebii's is better. It's what the game uses when you check the location "Altru Park" on the map. Also, when looking at quality, it's this:

versus this:



Which one do you like better?

Dolphins

are

awesome

(and Vulpix are too) 21:05, 2 November 2009 (UTC)

I get what you're saying but ours shows the whole park. Notice that on all the other location articles it's the same thing. ZestyCactus 21:21, 2 November 2009 (UTC)

ours. first off, the quality isnt that bad, and it still shows more than a section of the area. besides, we dont take Serebii's images anyway, thats basically theft. --

MAG

NE

DETH

21:22, 2 November 2009 (UTC)